New QX50 vs QX60 Comparison Research
Which INFINITI is right for you?
The 2021 INFINITI QX50 vs QX60

CAPACITY
ENGINE
TRANSMISSION
DRIVETRAIN
FUEL CONSUMPTION
Estimated Fuel Economy (city / hwy)
STARTING MSRP
2021 INFINITI
QX50 Essential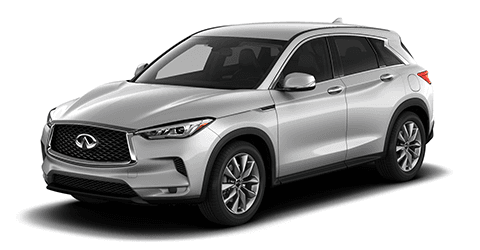 CAPACITY
ENGINE
280 lb-ft @ 1,600-4,800 rpm
TRANSMISSION
DRIVETRAIN
FUEL CONSUMPTION
STARTING MSRP
2021 INFINITI
QX60 Monograph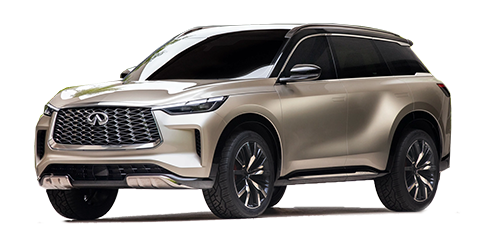 CAPACITY
ENGINE
TRANSMISSION
DRIVETRAIN
FUEL CONSUMPTION
STARTING MSRP
Elegant Exteriors
INFINITI has meticulous standards when it comes to body-style and exterior details especially on two of its luxury SUVs – the 2021 INFINITI QX50 and the QX60.
While INFINITI has yet to unveil the complete line of the 2021 QX60 with its specs and features, it has given us a sneak peek of what is to come with the 2021 QX60 Monograph.
Compared to the exterior of the QX60 Monograph, the QX50 trims are similar in body style except the Monograph exhibits a more cutting-edge look with its flowing roofline and sleek retractable door handles. The QX60 Monograph is also bigger with third-row seating and spacious cargo space versus the QX50 which is a 5-seater compact SUV.
While the exterior of the QX60 Monograph comes in an elegant champagne tone with black tinted windows and a dark roofline, the 2021 QX50 is available in different exterior colors such as Mocha Almond, Lunar White, Majestic White, Hermosa Blue, Black Obsidian, Mineral Black, Graphite Shadow, and Liquid Platinum. Available interior colors are Black, Graphite, and Wheat.
Despite their differences, both SUVs look stylish and will attract a lot of attention wherever they go.
Beauty and Beast on the Road
The QX50 and the QX60 look refined and elegant on the outside but inside, their engines can go on full beast mode as they conquer the road.
The QX50 derives power from its turbocharged engine. The QX50 Essential, one of the QX50's premium models, is built with Front Wheel Drive capabilities and a 2.0L VC-Turbo I4-cylinder engine packed with 268 horsepower at 5,600 rpm. It's also equipped with 280 lb-ft of torque at 1,600 – 4,800 rpm utilizing Continuously Variable Transmission or CVT Transmission.
The 2021 INFINITI QX60 trims are not yet available, we can only anticipate upgrades on their engine and performance features. It's a possibility that one of the QX60's engines will be turbocharged just like the QX50.
The 2020 QX60 model closest to the 2021 QX50 Essential model will be the INFINITI QX60 Pure. It is powered by a 3.5-liter 24-valve V6 direct-injection engine with aluminum-alloy block and heads. It is also a Front Wheel Drive. Being a bigger car, it packs more horsepower (295 hp at 6,400 rpm) and can tow up to 5,000 lbs.




Modern and Spacious Interiors
We anticipate the interiors of the 2021 QX60 models to be just as modern and spacious as their predecessors with third-row seats and a standard moonroof.
The 2020 QX60 Pure trim comes with the INFINITI Intelligent Key with Illuminated Push Button Ignition as well as Rear-seat heating vents under the first and second-row seats. It also has a heated steering wheel, heated front and second-row seats, leatherette seating, Graphite Weave interior trim, leather-wrapped steering wheel and shift knob, advanced climate control system, and USB charge ports in all the rows.
The 2021 QX50 Essential also comes with an Intelligent Key with Illuminated Push Button Ignition, heated seats, leatherette seating with available leather seats as well as a leather-wrapped steering wheel and shift knob. Being a compact 5-seater SUV, it does not come with third-row seats like the QX60. You can opt for its available heated steering wheel if you want that feature in your INFINITI QX50.
Innovative Driver-Assistance Features
Being on the road with savvy tech features to keep you safe and connected with the rest of the world is a great perk for luxury car drivers.
Both the INFINITI QX50 and QX60 are equipped with safety features to keep you safe and secure while driving.
The 2021 QX50 Essential and the 2020 QX60 Pure both have the Predictive Forward Collision Warning and Forward Emergency Braking with Pedestrian Detection so you can monitor traffic while you're driving and backing up, especially in tight spaces. The 2021 QX50 Essential is engineered with Lane Departure Warning and Rear Cross-Traffic Alert, features that are not in the 2020 QX60 Pure trim. You have the option to choose your trims depending on the safety features available for each model.

Tech Innovations and Connectivity
The 2021 QX50 models and the 2020 QX60 trims all come with premium infotainment systems to keep you informed, updated, and entertained during your travels. They are equipped with the sophisticated control systems that come with available and standard features usually offered in premium luxury vehicles.
You can enjoy seamless connectivity through the signature INFINITI InTouch™ with Wi-Fi Hotspot and BlueTooth capabilities. Take advantage of voice-command controls for infotainment and driving-assistance purposes.
Build and Test-Drive Your INFINITI
The 2021 INFINITI QX50 and both the current and upcoming INFINITI QX60 models are great choices if you're looking for a stylish luxury SUV to be yours and your family's road companion, especially during long and adventurous travels.
Visit our INFINITI dealership in Miami, Florida, and avail of the best deals on our INFINITI vehicles for sale from our inventory. Have a chat with our team at South Motors INFINITI to explore your options and schedule a test-drive at your convenience.
Visit South Motors INFINITI for a test-drive today!