New INFINITI QX60 Research
Style And Luxury For All Your Drives
The 2022 INFINITI QX60

CAPACITY
ENGINE
TRANSMISSION
DRIVETRAIN
FUEL CONSUMPTION
Estimated Fuel Economy (city / hwy)
STARTING MSRP
2022 QX60
LUXE AWD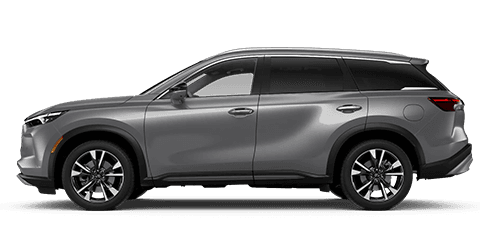 CAPACITY
ENGINE
3.5-liter V6 Direct Injection Engine
TRANSMISSION
Electronically-controlled Continuously Variable Transmission.
DRIVETRAIN
FUEL CONSUMPTION
STARTING MSRP
2022 QX60
PURE AWD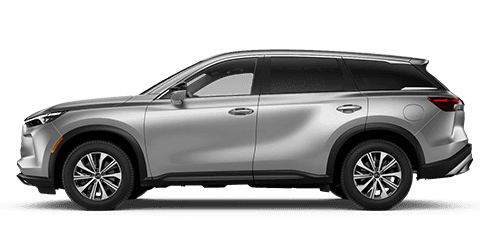 CAPACITY
ENGINE
3.5-liter V6 Direct Injection Engine
TRANSMISSION
Electronically-controlled Continuously Variable Transmission.
DRIVETRAIN
FUEL CONSUMPTION
STARTING MSRP
An Exciting Fall to Remember
The 2022 QX60 is coming this fall, and everyone is excited. If you fell in love with the elegance and incredible performance of the 2022 INFINITI QX60, you're probably getting ready to see what the latest QX60 has in store for you.
INFINITI has recently launched its 2022 QX60 Reservation Program, which allows you to reserve the QX60 before it hits the market. With the buzz it generates among excited drivers, the latest QX60 is looking to surprise everyone with the most advanced engineering and cutting-edge technology INFINITI is known for.
To learn more about the 2022 INFINITI QX60 and how to secure a reservation, visit us at the South Motors INFINITI Dealership in Miami, FL, today!
What to Expect
While waiting for the latest edition of the QX60, we can only expect the same agility and elegance its predecessor has excited us with since it came out two years ago. The 2022 QX60 has been an excellent luxury crossover with all the incredible features drivers all over the world have enjoyed.
We all know the 2022 QX60 has proved to be a worthy investment for those who value elegance and high performance on the road, features that are difficult to match. But we also know that the QX60 can only get better.
If you're curious about the INFINITI QX60 and what it's capable of, let's go back to the previous QX60, so you have an idea of what you're about to experience when you get behind the wheel of the 2022 QX60 once it becomes available.




Impressive Performance
A 7-seater crossover with standard third-row seats, the 2022 QX60 navigates the road with agility and ease. It comes with a suite of safety and technological features that make driving enjoyable.
The QX60 comes in four elegant models with standard and available features you'll love. Choose from the QX60 Pure, QX60 Luxe, QX60 Pure AWD, and QX60 Luxe AWD.
All models have identical engines, a 3.5-liter 24-valve V6 direct-injection engine, aluminum-alloy block, and heads. It is mainly responsible for the QX60's incredible agility and fuel efficiency on the road, packed with 295 horsepower and 270 lb-ft of torque.
For better control and agility during challenging drives, you can choose to upgrade your ride by going for the QX60's premium AWD models.
Luxury that Stands Out
The QX60 does not just bring power and high-level road performance during your travels, it's also stylish and luxurious. The combination of exquisite exteriors and performance makes driving the QX60 an experience to be proud of.
Choose from a range of sophisticated colors to customize your QX60. Go for blue, gray, white, black, silver, brown, red, or champagne.
Enjoy LED Daytime Running Lights, Integrated LED front fog lights, Power-sliding tinted glass moonroof with tilt feature and sliding sunshade, Power Rear Liftgate, Roof Rails, and many more.
Inside the cabin, revel in plush luxury from seating to trimmings. Relax on the road using your modern infotainment system, wireless Apple CarPlay and Android Auto integration, climate control, heated seats, and a host of other luxurious amenities.

Safety Features
Safety on the road is a priority for the QX60. It's the main reason INFINITI has installed a suite of safety controls and driver-assistive features for your and your passengers' utmost protection.
Have peace of mind while traveling, even with challenging weather and road conditions. Your QX60 will ensure you're safely on your lane at all times and in control of potentially hazardous elements around your vehicle.
Take advantage of standard and available safety features built inside the QX60, including a 4-Wheel, 4-Channel Anti-Lock Braking System, Blind Spot Warning, Blind Spot Intervention System, Backup Collision Intervention, Traction Control System, Rear View Monitor, and many more.
Check Out and Pre-Order
Fall is just around the corner, and before you know it, drivers around the world will be talking about the exciting features of the 2022 INFINITI QX60. If you want to secure your brand new QX60 fresh off its debut, you can pre-order now.
At South Motors INFINITI Dealership, we are gearing up for the arrival of the 2022 QX60. And we want to make sure our customers have all the information they need to choose the QX60 model that's perfect for them even before the QX60 becomes available in the market.
If you're excited about the 2022 INFINITI QX60, head over to our dealership and check our INFINITI inventory. Ask questions, and our friendly customer service representatives will be glad to assist you. Schedule a test drive, too, if you want.
Visit us at the South Motors INFINITI Dealership in Miami, FL, and pre-order your 2022 INFINITI QX60 today!