new INFINITI qx55 suv in miami research
Check Every Box off of Your SUV Wishlist with the 2022 INFINITI QX55
A Crossover That Combines All of the Right Elements

CAPACITY
ENGINE
TRANSMISSION
DRIVETRAIN
FUEL CONSUMPTION
Estimated Fuel Economy (city / hwy)
STARTING MSRP
INFINITI QX55
Luxe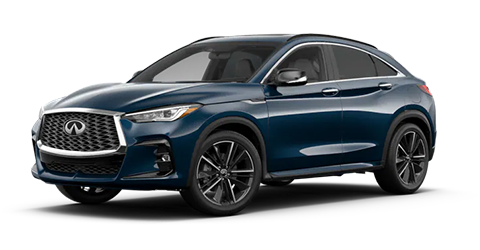 CAPACITY
ENGINE
280 lb-ft @ 1,600-4,800 rpm
TRANSMISSION
DRIVETRAIN
FUEL CONSUMPTION
STARTING MSRP
INFINITI QX55
Sensory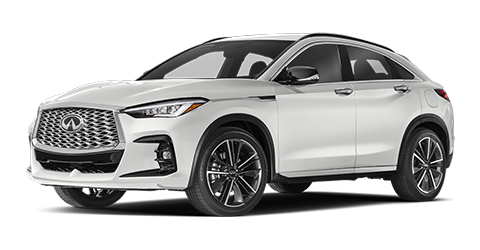 CAPACITY
ENGINE
280 lb-ft @ 1,600-4,800 rpm
TRANSMISSION
DRIVETRAIN
FUEL CONSUMPTION
STARTING MSRP
A New Crossover That Makes a Statement
The 2022 INFINITI QX55 breaks traditional SUV boundaries with a new and improved crossover coupe design. This attractive blend translates to an SUV with a confident stance, professional-grade finishes, and a rear that signals a no-nonsense approach to driving performance.
Set trends with the 2022 QX55's one-of-a-kind double-arch grille. This exclusive grille integrates an origami-inspired interwoven pattern that can only be found within the 2022 QX55.
Drivers can stand out from the crowd with the 2022 QX55's digital piano key taillights that fit seamlessly within the SUV's sloping rear coupe design. Eight 2022 QX55 colors give you plenty of opportunities to express your exterior tastes, while 20-inch dark-painted and machine-finished aluminum-alloy wheels leave plenty of room for visual admiration.
Witness the 2022 INFINITI QX55's sleek aerodynamic lines and groundbreaking rear design in person at South Motors INFINITI. We'll update you on some more exciting 2022 QX55 features until your visit.
Expressive Interior Design
This all-new INFINITI's interior offers a driver-focused design that's wrapped in unprecedented opulence. The 2022 QX55's cabin leverages an asymmetrical configuration that keeps performance-focused features within arm's reach. You'll experience many times when you don't even have to reach when looking to take control of the 2022 QX55's interior. This INFINITI offers a leather-wrapped steering wheel with controls that streamline your ability to answer phone calls, adjust audio, and much more.
Drivers will feel at home after sliding into the 2022 QX55's available Graphite and Monaco Red interior. These two interior colors establish a bold contrast that personifies sporty elegance.
INFINITI balances the 2022 QX55's suave interior with plenty of practicality. 26.9 cubic feet of cargo room and 38.7 inches of rear-seat legroom display the 2022 QX55's ability to expand the limits of your everyday drives.




Purpose-Driven Power and Performance
Generate new levels of driving excitement with the 2022 QX55's innovative VC Turbo engine. This state-of-the-art engine produces 268 horsepower and 280 lb-ft of torque that make routine drives an adventure.
Don't worry about having to sacrifice fuel economy for the 2022 QX55's power. 25 combined mpg gives the all-new QX55 an ideal level of fuel efficiency that keeps you moving toward your destination.
This INFINITI SUV's all-wheel drive isn't your run-of-the-mill all-wheel-drive configuration. The 2022 QX55 monitors your wheelspin, throttle input, and road speed to send appropriate levels of power to your rear wheels. These on-the-fly adjustments can provide your rear wheels with up to 50% more power so you can achieve supreme levels of traction and control on variable terrains.
Not Your Everyday Car Technology
The 2022 INFINITI QX55 packs a technological punch with forward-thinking features that exemplify driving connectivity. Make the most of your smartphone with this all-new INFINITI's Apple Carplay® and Android Auto™ compatibility. The 2022 QX55 allows you to wirelessly integrate Apple CarPlay for effortless access to your favorite music and podcasts.
You'll feel like you're front-center at a concert featuring your favorite music artists when you opt for the 2022 QX55's available Bose® Sound System. 16-speakers support the Bose Sound System's ability to churn out high-quality audio that you won't want to miss.
Upgrade your navigation experience with the 2022 QX55. This crossover SUV's navigation system includes 3D building graphics and natural-feeling turn-by-turn directions that give you a deeper sense of your driving environment.

Raise Your Roadway Awareness
Let's examine some of the 2022 QX55's advanced safety features that help you remain in command. Give your blind spot 20-20 vision with the 2022 QX55's Blind Spot Warning feature. This standard safety offering alerts you of vehicles quickly approaching your blind spot so you can switch lanes with absolute confidence. Drivers can take their blind spot protection to the next level with the available Blind Spot Intervention® feature that recenters you in your lane if you begin to move over before the coast is clear.
Increase your security behind the wheel with the 2022 INFINITI QX55's available Head-Up display technology. This contemporary driver-assist feature provides a projection of your current speed and navigational directions so you can get the driving info you need without risking your safety.
Experience a new kind of SUV
South Motors INFINITI's commitment to customer satisfaction helps you stay on the frontlines of auto innovation. Discover more ways to optimize your SUV driving experience by visiting our dealership to explore and test drive the all-new 2022 INFINITI QX55.