2022 INFINITI Q50 Specs and Features
2022 INFINITI Q50 Features and Technology
Sink into a Realm of Complete Refinement

CAPACITY
ENGINE
TRANSMISSION
DRIVETRAIN
FUEL CONSUMPTION
EPA-Estimated Fuel Economy (city / hwy) MPG
STARTING MSRP
INFINITI Q50
3.0t Luxe RWD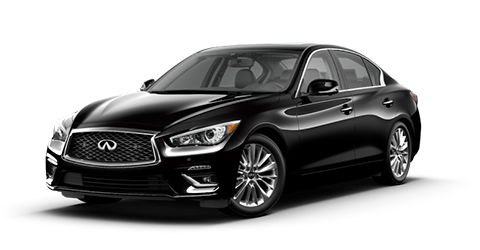 CAPACITY
ENGINE
TRANSMISSION
DRIVETRAIN
FUEL CONSUMPTION
STARTING MSRP
INFINITI Q50
Red Sport 400 AWD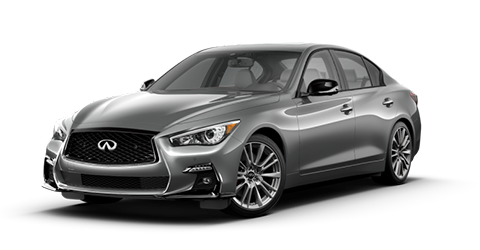 CAPACITY
ENGINE
TRANSMISSION
DRIVETRAIN
FUEL CONSUMPTION
STARTING MSRP
A Subtle Mix of Comfort and Luxury
Although made significant changes to the latest model year, the 2022 INFINITI Q50 has not failed to offer the elegance and spirited performance we have been accustomed to. In the all-new version, INFINITI decided to throw two trims out of the window – the previous base and mid-range editions – leaving the Q50 with just three trim levels, including Q50 Luxe, Q50 Sensory, and Q50 Red Sport 400, while sporting exciting standard comfort-centric features that make every drive a breeze.
This luxury sedan exhibits a canny display of athletic fortitude and remarkable quality to outclass its competitors, leading the pack in cutting-edge technology which is tailored to the bubbling lifestyle of Miami car lovers, including folks from close cities such as Tampa and Orlando. Unlike most sedans, you'd enjoy the freedom to choose everything, from your looks to the engine option, for a customized driving experience. Find out more about the 2022 INFINITI Q5O and stop by South Motors INFINITI, Miami, FL, right away for a free test drive.
Ultimately Defined for Craftiness
Designed to be a stand-out in the crowd, the 2022 INFINITI Sensory boasts bespoke 19-inch alloy wheels looking braced for the challenge. They combine with the automatic on/off LED headlights with daytime running lights to exude a provocative figure that stuns your onlookers.
Your beautiful experience begins when you take a bow into the deluxe cabin blessed with rich driver-centric amenities. The power sliding tinted glass moonroof welcomes your entrance with nature's beautiful smile, conspiring with the leather-appointed steering wheel with mounted paddle shifters to stir your thirst for the thrill ahead. Being relaxed on a seating has never felt as nourishing as it does when your body embraces the available semi-aniline leather-wrapped front seats equipped in the Q50 Sensory – while the dual-zone automatic climate control adjusts the cabin temperature at a slick touch, to suit not only you but also your passengers at the rear.




Linking You to the Real World in a Seamless Fashion
With a state-of-the-art infotainment system with Apple CarPlay® and Android Auto™, the 2022 Q50 gives you the freedom to toggle between apps and also play your preferred music collection on the 16-speaker Bose stereo system, by intuitively connecting your smart devices to the reliable INFINITI InTouch™ dual HD display placed on the dash.
Innovated for Your Confidence
Primed for your safety, the INFINITI Q50 offers safety features that take the worry out of the drive to let you power through the highs and lows of Miami with peace of mind. For instance, the intelligent cruise control enables you to maintain a safe distance from the vehicle ahead by modulating your speed – while the blind spot monitoring system alerts you of the traffic in your blind spots so you can avoid a potential collision.

One of the Quickest, Strongest Sports Sedans Ever
The 2022 INFINITI Q50 LUXE takes pride in its 3.0-liter twin-turbocharged engine that brings your adventures roaring back to life from the get-go. Its impressive delivery of 300-horsepower and 295 pounds-feet of torque is sufficient to keep you running mile after mile, working brilliantly with the standard rear-wheel drive to optimize your acceleration with an EPA-estimated fuel economy of 29 mpg on the highway.
Having a nod over the LUXE in terms of performance is the 2022 INFINITI Q50 Red Sport 400. A complete maestro of the game, this iconic trim shares the same engine capacity and powertrain with the LUXE, although it adds two turbo speed sensors and dual water pumps for a more effective revving. As a result, its engine pushes out 400 horsepower and 350 lb-ft of torque while earning a significantly higher highway fuel efficiency of 26 mpg.
Test Drive the 2022 INFINITI Q50 in Miami, Florida
Hit Miami roads with great confidence in a compact sedan that blends spirited performance with cutting-edge technology and luxury. At South Motors INFINITI, we pride ourselves on providing the best customer service and dealership experience to as well as a full scope of automotive services that will help make the process of buying, financing, and maintaining your vehicle easy, quick, and efficient.
We also boast a complete inventory of luxury new and certified used INFINITI models available at cost-effective rates. So whenever you are looking to get exceptional automotive service in Miami and nearby areas, make sure you stop by our INFINITI dealership in Miami, FL, and our friendly sales staff will be happy to guide you through the entire process of buying and financing your dream car.