INFINITI QX50 Research
Discover The New 2020 INFINITI QX50 In Miami
INFINITI QX50

CAPACITY
ENGINE
TRANSMISSION
DRIVETRAIN
FUEL CONSUMPTION
Estimated Fuel Economy (city / hwy)
STARTING MSRP
INFINITI QX50
PURE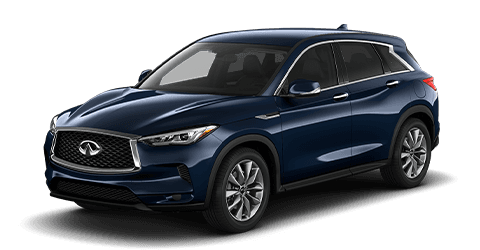 CAPACITY
ENGINE
2.0L VC-TURBO I4 CYLINDER ENGINE
280 lb-ft @ 1,600 – 4,800 rpm
TRANSMISSION
CONTINUOUSLY VARIABLE TRANSMISSION
DRIVETRAIN
FUEL CONSUMPTION
STARTING MSRP
INFINITI QX50
AUTOGRAPH AWD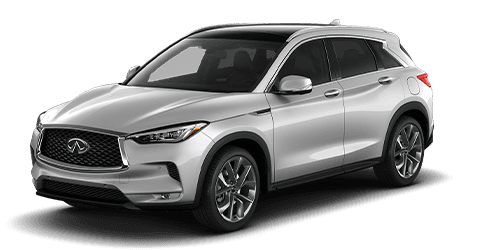 CAPACITY
ENGINE
2.0L VC-TURBO I4 CYLINDER ENGINE
280 lb-ft @ 1,600 – 4,800 rpm
TRANSMISSION
CONTINUOUSLY VARIABLE TRANSMISSION
DRIVETRAIN
INTELLIGENT ALL-WHEEL DRIVE**
FUEL CONSUMPTION
STARTING MSRP
The designers of the 2020 INFINITI QX50 clearly wanted the vehicle to make a powerful first impression on anyone looking at the exterior. In that bid for visual might, the vehicle's exterior sports an angular front and lower intake valves while the 19-inch wheels give the vehicle an aggressive position. Perceived aggression can be a wonderful feature in any vehicle, especially when driving in congestion-heavy urban areas.
As with previous models, the 2020 INFINITI QX50 favors a lean but full figure created to maximize performance by working with the vehicle's low center of gravity, creating an almost aerodynamic exterior that begs to be turned loose on the open road. The 2020 INFINITI QX50 also sports robust body sides designed to anchor the performance-oriented stance with a strong, solid bone-and-arched roofline that flows to the trademark crescent C-pillars.
It's not easy for a sport utility vehicle to look graceful and tough, but the 2020 INFINITI QX50 does just fine in that regard. But you don't have to take our word for it. If you want to see the 2020 INFINITI for yourself, contact the friendly, professional, and knowledgeable staff at South Motors INFINITI to find out more.




Power
While the designers of the 2020 INFINITI QX50 opted to not make use of hybrid or electric engine model options, the vehicle's turbocharged 2.0-liter 4-cylinder engine provides drivers with the ability to vary the vehicle's compression ratio from 8:1 to 14:1 in about one second. This first-of-its-kind engine model allows the 2020 INFINITI QX50 to compete with both luxury model vehicles and SUVs currently on the market, finding the magic spot between speed and control in terms of performance.
Safety
Whether the driver spends most of their time on abandoned back roads or in the worst urban congestion ever visited upon the human race, vehicle safety will always be a huge factor. To that end, the 2020 INFINITI QX50 sports multiple standard safety features, including forward emergency braking with pedestrian detection, which scans for potential frontal collisions, and lane keep assist to help steer the vehicle and make small steering corrections by identifying lane markings.
Additional features include intelligent cruise control to monitor speed and distance by automatically adjusting speed as needed, distance control assist to help maintain safe distances from other vehicles, not to mention anti-lock brakes, electronic traction and stability control, automatic emergency braking, and a rearview monitor.

H2: Interior/Technology
When it comes to a vehicle's interior, there tend to be two primary schools of thought in terms of the design spectrum: on one side sits highly functional, on the other side is highly comfortable. The is finding a safe point between the two extremes, and the 2020 INFINITI QX50 achieves that balance.
It helps that the vehicle sports a number of options to achieve that goal.
The interior space includes a sliding rear bench, a 39-inch deep cargo area which can increase to 44.9 inches with the seats moved forward, and rear legroom of 38.7 inches. That means most people sitting in the back seat should be able to comfortably cross their legs, something anyone who has recently spent time on a commercial airline will be able to appreciate.
The panoramic moonroof, which is standard on all models except PURE, stretches from the front row through to the cargo area, providing a dramatic view of the sky for all passengers. The moonroof visually enhances interior space, flooding the interior with natural light to accentuate the sense of space.
The QX50's driver-centric, passenger-minded asymmetric interior design enhances the driving experience and creates a calm and connected space. It also offers technologies that enhance the potential for relaxation and calm, creating an environment suited to the needs of the driver and passengers alike.
Standard feature options on the 2020 INFINITI QX50 include (take a deep breath) an Intelligent Key remote with a push-button start option, sliding and reclining rear seats, 8-way power and lumbar support driver and front passenger seats, leatherette seating, a tilt-and-telescopic steering column, dual-zone automatic climate control, an upgraded infotainment system that features INFINITI InTouch dual HD displays with upper 8-inch and lower 7-inch touchscreens, a six-speaker AM/FM/CD stereo with auxiliary and USB input, Bluetooth®, SiriusXM, Apple CarPlay®, Android™ auto, a rearview camera and cruise control.
Get all that? Good. Because we might pass out if we have to say it all again.
Come on in and See
Spacious, sturdy, and sporting a first-generation new combustion engine under the hood, the 2020 INFINITI QX50 has a great deal to offer drivers and passengers. And if you want to learn more, don't hesitate to contact South Motors INFINITI now.